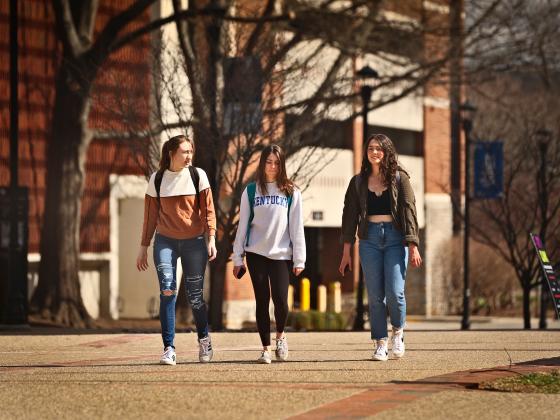 257-SAFE is the University of Kentucky's one-number coordinated student safety services program. This resource is designed to be a one-stop repository for links to campus safety oriented services. These services can be difficult to reach if you can't recall the specific contact information. To this end, the University of Kentucky Police Department has streamlined this process for the campus community by ensuring all these resources can be reached by calling one simple and easy to remember number 257-SAFE (7233).
257-SAFE can connect you to the following services:
SAFECATS student safety escort service
This is a free safety escort service sponsored by UKPD and operated by the Flying Wildcats Booster Club, a student organization comprised of Air Force ROTC cadets.  Escorts have undergone UKPD training and criminal background checks.
Transportation provides on-call bus services weekdays from midnight-5AM. 
UK Violence Intervention and Prevention (VIP) Center
The VIP Center works with faculty, staff, students and community partners toward the mission of eliminating the perpetration of power-based personal violence including sexual assault, partner violence and stalking.
The Counseling and Testing Center provides information regarding suicide prevention services on campus through the UK Resource and Referral Line.​
SAFECATS (Safe And Free Escort for Campus Area Traveling Students) is a safety escort service available to UK students and their guests Sunday - Thursday from 8:30pm to 1:30am except during official University holidays, breaks or during the summer.
Students can arrange a free safety escort by calling (859) 257-SAFE (7233).
Students are encouraged to call 10-20 minutes in advance of the time they need an escort.
When available, escorts may also be arranged by in person by visiting the lobby at the W.T. Young Library.
Safety escorts may be conducted either on-foot or golf cart, depending on cart availability.
The University Police Department contracts with the Flying Wildcats Booster Club, a student organization comprised of Air Force ROTC cadets to operate the SAFECATS program.
These safety escorts are trained annually by the University Police Department, carry a police issued radio giving them direct contact with the University Police Communications, and undergo a preliminary criminal background check before they are permitted to serve as a safety escort.
SAFECATS staff can be identified by their bright yellow reflective vests with SAFECATS emblazoned on the back and a specially issued SAFECATS Identification Card.
For added safety, any student requesting an escort is encouraged to ask to see the escort's SAFECATS identification before being escorted.